Better Building, Better Results
At Hernandez Engineering we stake our reputation on quality building, backed up by safe measures, experienced workers, and superior customer service.
Hernandez Engineering is predominantly a General Engineering Contractor.
As a General Engineering Contractor we are licensed to perform:
| | |
| --- | --- |
| • Irrigation | • Drainage |
| • Water power | • Water supply |
| • Flood control | • Inland waterways |
| • Railroads | • Highways |
| • Street and roads | • Sewers and sewage disposal plants and systems |
| • Waste reduction plants an other similar works | • Pipelines and other systems for the transmission of petroleum |
| • Parks | • Playground and other recreational works requiring specialized engineering knowledge and skill |
We also perform:
| | |
| --- | --- |
| • Land leveling and earthmoving projects | • Excavating |
| • Grading | • Trenching |
| • Paving and surfacing work | • Cement and concrete works in connection with above mentioned fixed works |
All of our projects are tailored to the needs of each client with the utmost care. Our business principles are strong and dedicated to providing the highest quality construction in the industry.
Additionally, we make it our business to be responsive to all of our customers, establishing solid relationships with all working personnel so that projects stay on budget and finish on time.
Hernandez Engineering prides itself on five key elements relevant to outstanding construction: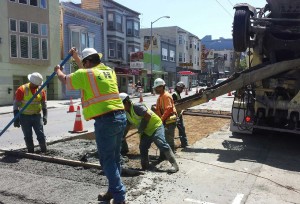 Competitive—We always are ready to take on projects, big or small, because we strive to offer you the best bid on the highest quality work.
Safety —The protection of our workers and the continuous goal of construction excellence are among our company's hallmarks.
Experience—We put our knowledge into practice on every project, ensuring the very best construction in the industry.
Union—Our dedication to being union members ensures that clients are dealing with a reputable company and receiving superior workmanship.
Capable—We are accomplished builders and competent in every phase of construction. More than anything else, Hernandez Engineering utilizes its experience and knowledge of the building industry to ensure that projects are completed in excellent order. Our clients expect nothing less than the best with Hernandez Engineering.