Hernandez Engineering
Building Upward in a Major City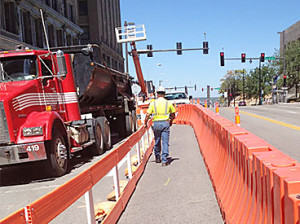 As one of the fastest-rising general engineering firms in San Francisco—the fourth most populous city in California, and the 13th most populous city in the United States—Hernandez Engineering is dedicated to quality building, backed up by safe measures, experienced workers, and superior customer service.  Hernandez Engineering has completed numerous projects and built a reputation as one of San Francisco's top building companies.
Formed in 2002, Hernandez Engineering relies on a small, but highly-experienced, workforce to provide superior building results.  A minority-owned business, Hernandez Engineering, is among the latest successful building companies based on the West Coast. We target our business towards general engineering contractors with a Class "A" license, as well as city and county governmental agencies.
Our primary objective.
The primary objective of Hernandez Engineering is to become a leading local general engineering contractor. Hernandez Engineering will be innovative in its approach to construction. The principals of Hernandez Engineering have never looked at any project as a typical project. Hernandez Engineering will continue this tradition of looking for value engineering and "think outside the box" approach to construction.
We will work with project owners and deliver them a complete project on time and within budget. Hernandez Engineering will always take a partnering approach to projects and get the owner to buy in as a team member and not an adversary.
Excellent Relationships.
A minority-owned business in San Francisco, Hernandez Engineering makes sure that all of it's clients are satisfied by staying on budget and finishing on time. We are competitive within our industry, implement the strictest safety measures, provide the most experienced workers, members of a union, and are accomplished builders.